The lab consists out of:
Windows Client
ACI simulator

Which will be your target to deploy the pipeline

Ubuntu server

Is is where all our services will be hosted
(GitLab-server, GitLab-runner, and Ansible environment)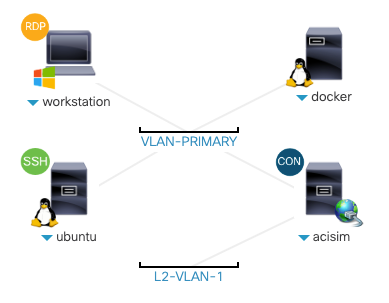 ACI Simulator
Linux Server
ACI Simulator
IP address: 198.18.134.18
User: admin
Password: C1sco12345
Linux Server
We have the following state in the lab:
APIC fabric initial setup is done
Ubuntu server has been updated with the latest packages
Everything else has to be installed and configured by yourself!
During the workshop, you will see several boxes in different colors . Here is the explaination:

				
					This are CLI commands or code you need to copy
				
			

				
					This is CLI output. Nothing to do here!
				
			
Attention
You should pay attention